2022
This certificate is proudly presented to Catalyst as the winner of the top 10 regional PR agencies list 2022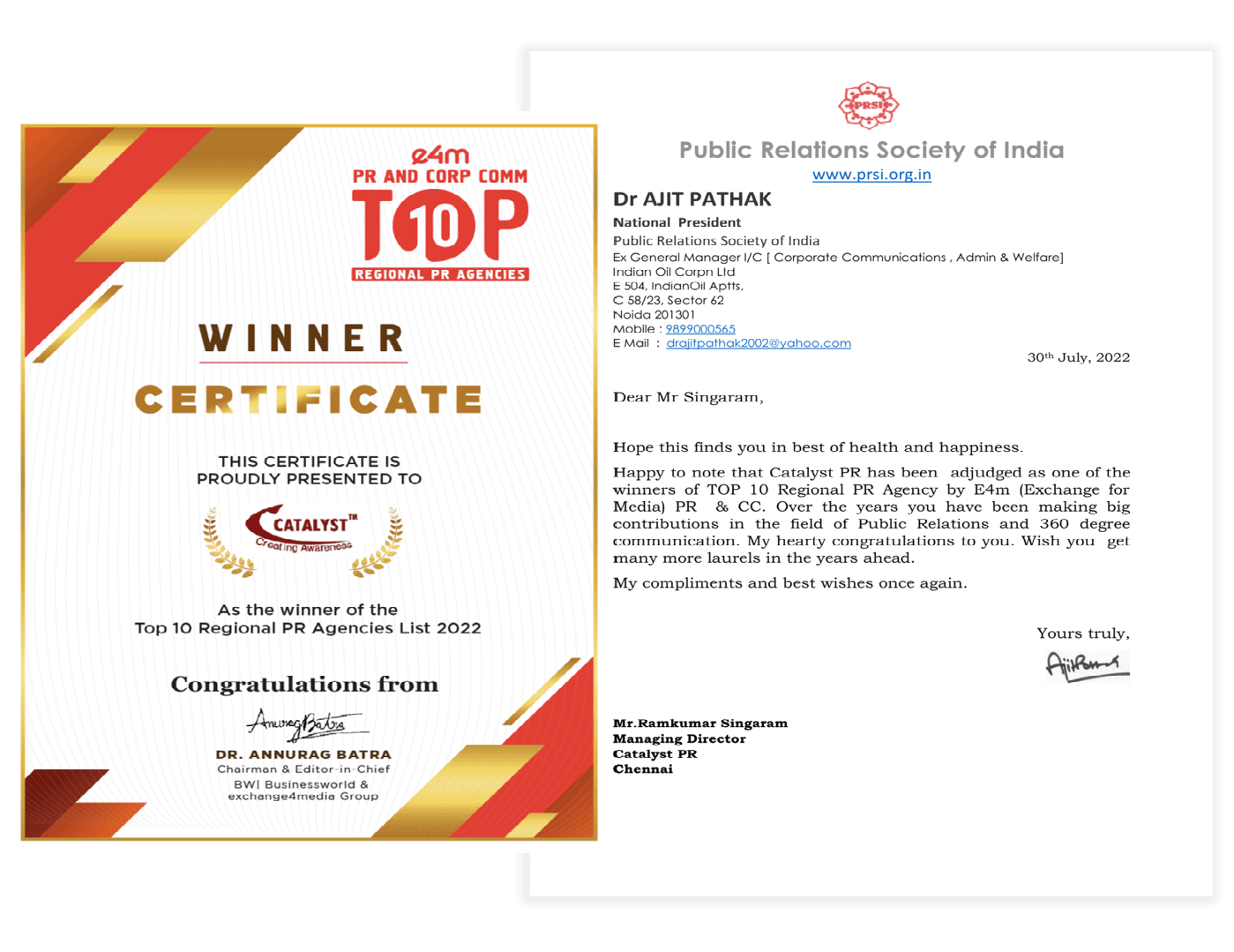 2021
Public Relations Council of India (PRCI) Excellence Awards 2021 – Gold Award for Excellence in Digital Sales Channels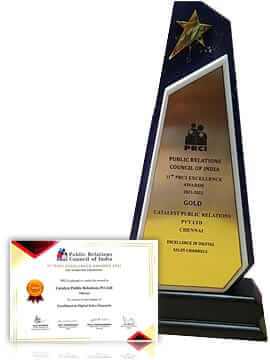 2020
Public Relations Society of India (PRSI) National Award 2020 – Event Management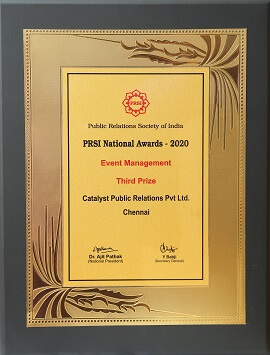 Won Gold Award for 'Best Use of Media Relations' from PRCI
Won Gold Award for 'Unique HR Initiative' from PRCI

2019
Received the 'Best Public Awareness Program Award' from Public Relations Society of India (PRSI) www.prsi.org.in

Won Silver Award for 'Use of Media Relations' from PRCI

Won Silver Award for 'Use of Media Relations' from PRCI
Indian & Bangladesh Journalists taken on a FAM trip for the International Atom Expo organised in Russia by our client, Rosatom, a Russian Government State Atomic Energy Corporation.
2018
Catalyst PR became the only Indian member of the International Public Relations Network (IPRN) www.iprn.com
ISO certification renewal to 9001:2015, first of its kind certification in the Indian PR industry.
2017

Received Public Relations Council of India (PRCI) Juries Special Award – 'Promising PR Agency of the Year 2017 ' www.publicrelationscouncilofindia.com
Won IPRCCA (The Indian Public Relations and Corporate Communication Awards) 2017 award from E4M (www.e4mevents.com) for Continuous Campaign – Beyond Metro.
Catalyst PR was the first ever in the PR industry of Tamil Nadu to have a highest strength of 18 employees in its roll.
2016
Recognition from Toastmasters International District 82 for providing 'The Best PR Support'.
Introduced Media Partnering Service.

2015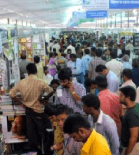 Catalyst PR got the first of its kind opportunity to create a media centre and communicate the news items on daily basis for 12 days for Chennai Book Fair, which got the company an appreciation memento from the Booksellers and Publishers Association of South India (BAPASI) for the service rendered.
2014
Conferred with the Best Media co-ordination appreciation award by Chennai Literary Association at the Chennai Literary Festival.

2013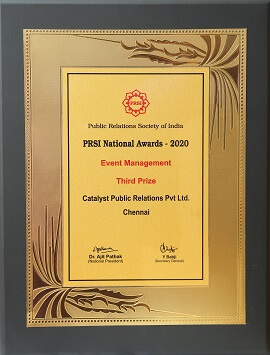 Bestowed with Partner in Progress award by CADD Centre during their Silver Jubilee Celebration, in recognition of Catalyst PR's excellent services and long standing association with them in the past years.
2012
Launched News Tracking Department
2011

Expanded its clients base to 300+
Entered into TV slot business
2010
Catalyst PR became India's 1st ISO 9001:2008 certified PR Company.
2009
Received the Esteemed Partner recognition award from infomedia – Yellow Pages
Constitution changed – Catalyst PR became Catalyst Public Relations Pvt. Ltd
2008
Conferred with the best PR support appreciation award by AIEMA (Ambattur Industrial Estate Manufactures Association) Technology Centre at the 8th International industrial exhibition.
2005

PAN India networking was established spanning around 21 states.
2004
Operations have been Shifted from smaller office space in West Mambalam to a Spacious office in Gemini Parsn Apartments – Anna Salai, Chennai.

2003

Catalyst inaugurated event management division and got mandate from Shriram group.
2001
Expanded its services to 9 other major cities in India including North Indian states.
Marketed for more than 200+ clients.
2000

Catalyst hit a century in client base. Expanded its clients base to 120.
Expanded its services to other major cities in South India like Bengaluru, Hyderabad & Kochi
1999
Expanded its services to major cities in Tamil Nadu (Madurai, Trichy & Coimbatore)

1998
Secured 35+ clients in the year